Top Workout Timer Lite
Top workout timer is a high intensity interval timer with speech functionality. It not only measures the preset time of your intensity intervals, it also tells you which exercise from your plan should you be performing next using it's text to speech functionality. It's motivation feature notify's you a preset amount of seconds/minutes that are left till the end of the currently performed exercise so you can increase the intensity to maximize the exercise effect. With workout timer you'll be able to reach your goals sooner by maximizing the efficiency of your workout.
Workout timer features:
- Create your own plans with custom exercises.
- Setup the length of exercise, preparation time, number of rounds and length of the rest time
- Choose the exercise start and end sound (whistle, whistle twice, gunshot, gong, air horn)
- Setup the time left notification, which will notify you before the end of each exercise.
- Shuffle the plan exercises for each round, to escape your workout stereotype.
- Workout timer always saves the last UI setup to save your time

The Lite version displays ads and doesn't permanently store the created plans.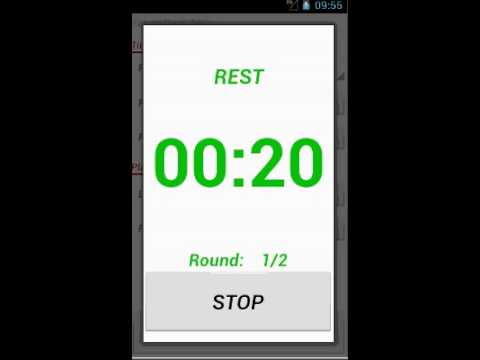 No comments in the Android market yet