Touchless Notifications Free
Speaking full-screen notifications with MotoX "What's up?" like summary read-out

Introducing version 2.00 with a ton of user requested features!

You can try the fully featured FREE version before purchasing PRO. Having trouble uninstalling? see FAQ at the bottom

Page d'instructions seulement pour les utilisateurs français http://notifications.dataglobe.eu/French

REFERENCES
►http://www.mysticaccesspodcast.com/tag/touchless-notifications/
►http://qnalist.com/questions/5143137/touchless-notifications
(big thank you to all who speak/write about this app!)

HANDSFREE NOTIFICATONS
►Speaks and displays your incoming notifications full screen while you're driving
►Speaks your notifications when you have your headset or headphones on
(similar to Car Mode, Drive Link, Enhanced SMS & Caller ID, ReadItToMe but with full screen display)

GET A SUMMARY READ-OUT OF PREVIOUSLY MISSED NOTIFICATIONS
When you:
►start driving
►put your headset on
►say Google Voice Search command "Open notifications" (temporarily down: I am working on a fix)
►plug or unplug charging
→Keeps track of what's been announced
(similar to the "What's up" feature in "Moto Voice" Touchless Controls see http://goo.gl/enfMtD)

VOICE REPLY TO MESSAGES
►Works with any messaging app
►90% hands free

INTERACT WITH THE FULL SCREEN NOTIFICATIONS
►Swipe to skip, pause, dismiss or launch the app
►Shake phone to mute
►Wave at phone to mute

FINE TUNE WHAT'S INCLUDED IN THE SUMMARY
►Greeting text (see PRO benefits↓)
►Time, battery
►Ambient temperature (if available ~ Note3, S4)
►Blacklists
►Amount of text for each notification

CONTROL THE EXPERIENCE WITH OPTIONS
►speech engine, rate
►dual language speech with language detection (primary language=English!)
►mark apps which use your other language
►pause or duck music
►pocket sensing
►Great out of the box, but may be fine tuned to the extreme... Quick ↔ Advanced settings

Built-in user guide: http://notifications.dataglobe.eu + Tour Wizard!

PRO VERSION BENEFITS
►Support an independent app developer who is devoted to creating apps which put YOU in control
►Personalize how Touchless Notifications will greet you, or turn off the greeting. The FREE edition let's you change the greeting, but it will only be used in the test announcement (in settings)
►No notification icon in top bar
►Locale / Llama / Tasker plugin → demo http://youtu.be/mC9HmpxZR_w
►Touchless Notifications FREE will sometimes remind you to get the PRO version in the announcement
►More FREE features may be moved to PRO version in the future

HI GALAXY
►Say "Hi Galaxy" on some Samsung phones with S for Switch Voice PRO configured to start Touchless Notifications (see http://goo.gl/WBkXXk in the Play Store)

ALL NOTIFICATIONS WORK
►GMail (from/subject + body ~ optional/shortened)
►Hangouts not just the first line
►SMS, Calendar, Missed calls
►Google Now updates (weather, time to home...)
:
►Every and any app's textual notifications which you don't specifically exclude


FREQUENTLY ASKED

Q►Why 2 icons?
A►Touchless Notifications creates launcher icons for the voice commands. 2 icons initially:
→Touchless Notifications: Settings (= "gear" icon)
→Notifications: start summary read-out

Q►Permanent notification bar icon?
A►Touchless Notifications puts a permanent notification in the shade if you select any of the headset/power monitoring features. Remove the notification by disabling all connection triggers

Q►I cannot uninstall?!
A►Go to Settings / Security / Device Administrators and uncheck


PERMISSIONS
PHONE=mute on incoming call
BLUETOOTH=detect when headset is connected
BOOT=restart connection monitoring after reboot
KEEP AWAKE=option to turn screen on to show notification

Recent changes:
Reboot if update breaks Notification Access
↓
2.08
►amount of detail independent toggles
►cloud backup → PRO
►Google Inbox support
►central OFF switch
:
Earlier:
►Option to blacklist new apps
►debug log
►blacklist by phrases
►pronunciation dictionary
►Tasker plugin → PRO
►swipe down actions
►2nd language for messaging apps
►tour wizard
:
Complete change log: http://goo.gl/oxeZxH (XDA)
↓
Please be nice: report problems using the last item in settings
I'll be on it to fix issues ASAP
Test me!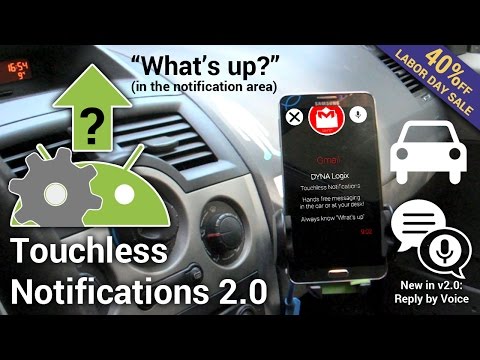 Write the first review for this app!