Tower of Hanoi Pro Drag-n-Drop
Tower of Hanoi is a mathematical puzzle where the objective is to move a stack of disks from the left-most pole to the right-most pole in the least amount of moves, the catch being a smaller disk must always be stacked on top of a larger, and never the other way around.

Features:
• Ad-free!
• Leaderboard at http://bit.ly/ToHLdrbrd
• Very intuitive with Drag n' Drop action as opposed to tapping used in other Tower of Hanoi versions in the Play Store.
• Provides 3 to 10 disks. The more disks you have, the more challenging the game is.
• Provides "Undo" button to undo last move.
• Auto "solve game" ability with cool background music. Can be turned off if desired.
• Exciting and challenging game with timer.
• Records top players who have the least moves in the fastest time in an online Leaderboard.
• Requires minimal permissions.

Check us out on Facebook at http://www.facebook.com/towerofhanoi

If you have any comments, suggestions, feature requests or bugs to report, it would be appreciated if you rate and comment in the User Reviews section. Thank you very much.

Recent changes:
This is the initial Pro version which is based off of the free version. The changes include:
• Removed ads.
• Increased number of disks from 8 to 10 for added difficulty and challenge.
• Improved UI.
• Numbered disks for easier tracking of disk size.
• New sound effects and background music.
• Bug fixes.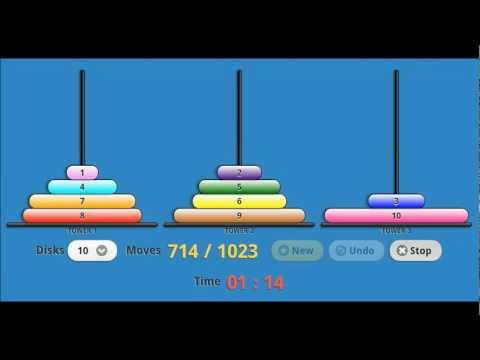 No comments in the Android market yet