Trickle Trouble
Help Chewy beaver to protect his dam against flooding and evil bug attacks!

When we started developing this game we had one goal: To make a free to play, fun game with a small team (as we did in the old days of the 8/16 bit arcade era) This means that we used our expertise, own(spare)time and money on this. And most important in our game development theory: No compromises on graphics, gameplay and sounddesign. Just to bring some "old school" Arcade fun and quality back into today's world of mobile gaming. The latter focus guarantees that everyone children, adolescents, adults and seniors will perceive the game as fun, relaxing and easy to play.

We believe we've created a game for you all to enjoy!


THE STORY:
Chewy beaver is very proud to have build an effective damstructure in the liquid surroundings of his happy home island.......but....now there appears to be big trouble.....

After the great flood almost a year ago, the ground has been damaged by the water which revealed an entrance to an evil water-bug habitat below the island...And...they are very angry because they were cutt-off from their nutricious water supply form the lakes above them. An attack on Chewys' dam is now a fact and the island is in great jeopardy. As the bugs try to sabotage the dam and hinder our rodent friend in his attempt to repare the damaged and trickely dam......its all Trickle Trouble....Chewy beaver has to save his home island from flooding once again. Will you help him?

Visit our special Facebook page: http://www.facebook.com/TrickleTrouble and stay tuned!


GAME FEATURES:
- Jump and hit all trickles before they cause a flood
- Free trapped fish
- Unlock 5 worlds with 60 action packed levels
- Beaver character levelling by earned bonus items
- Catch and collect coins ingame or buy some
- Exchange collected coins for bonus items in shop
- Environment effects
- Touch and crush enemy bugs
- Smash trough rocks and wooden knots
- NO ADVERTISEMENTS!


ABOUT US:
FifteenMileDrive games is an independent development studio located in the Netherlands that focuses on the development of mobile games for Google Android. FifteenMileDrive games offers solutions for all ages. In order to guarantee optimal playability and amazing music, FifteenMileDrive has strong partnerships with former C64/Amiga game developer Boys Without Brains.

Visit us on:

http://www.trickletrouble.com
http://www.fifteenmiledrive.com
http://www.boyswithoutbrains.nl

Recent changes:
Added explanation of the Bonus Items in the How To Play screen.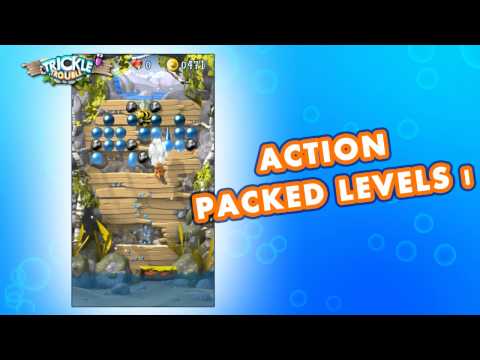 Write the first review for this app!