TundraTV How To Videos
TundraTV: How To is a collection of 71 how to videos found on YouTube. What happens when you get a flat tire and don't know how to change it? You could spend time searching on your phone, or just open TundraTV: How To and check under the Automotive Repair section. Quick and easy. All these videos have been organized and brought together in one app to make your life easier.

No more having to drag your laptop around the house when you need to know how to do something. No more having to search YouTube and dig through a ton of unrelated videos. Everything is right here in one app.

Topics have been broken down into:
* Automotive Repair
* First Aid Guide
* Home Repair
* Hunting/Fishing Tips
* Kitchen Tips
* Lawn & Garden Tips

Just some of the how-to videos you'll find include:

* How to change a flat tire
* How to prune an apple tree
* How to save a choking child
* How to perform CPR on a baby
* How to make butter and cheese
* How to fix a leaky faucet
* How to cut an onion without crying
* How to make a rain barrel
* How to jump start a car
* How to build a retaining wall

...and many more.

Recent changes:
4/22/2011 - Added new videos: How to jump start a car and How to build a retaining wall.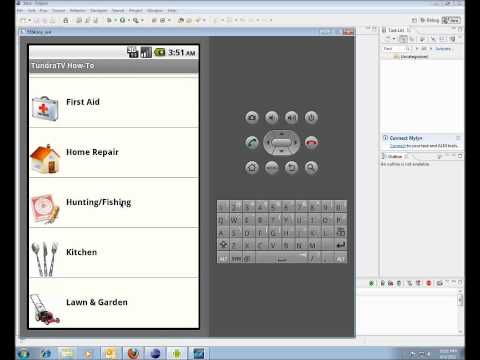 No comments in the Android market yet