Tv Wiki
It is an application to watch channels of television, videos, radios and movies in your Smartphone in a free way. Nowadays it is the first application on Google's market in which you are the main character of this application and you can decide where the limit is of this one.

It is the first collaborative application of environment Android. Through it, the users will be able to share their links of streaming as well as creating their personalized list of channels, radios and videos. It's functioning is very similar to programs P2P in Pc environment.

It is totally customizable: The user is who decides that channels to have in his/her application, in addition he/she will be able to introduce his/her own list of streamings created by himself / herself and to have his/her totally updated at any time.

With this application you will never depend on the developers in order that they correct any type of failure in the emission , and you and the rest of the users of Tv Wiki will be who will be able to update the emission.
The list of channels, videos and radios will be able to be infinite and it depends on you and on the own users.

Characteristics distinguished from the application:

- Methods of introduction of channels:

Manual: You will be able to add your streamings to your list of reproduction.

Automatic: Adding a Gmail's account (totally free) you will be able to obtain your wished list of channels of automatic form, as well as sharing with them your channels.

Import: You will also be able to use a file .txt to import your list of channels from any PC to your Smartphone

- To share Channels: Both with your known users about direct form and with the rest of users of the App.

- Function SleepMode: Setting a time, then the application will turn off automatically.

- List of Favorites: You can create your own list of channels, videos, favorite radios and organize it.

- Quality selection: Choose between high, medium or low quality. In this way you can improve the fluency of TV's reproduction.

- Great speed of Load: The channels reproduce quickly.

*This application needs a Plugin Vitamio to be able to reproduce the live emission, improving the compatibility and quality of image. If Vitamio is not installed in your device a dialogue of download will appear to install it in your device.

*This application does not need Flash Player to work.

Notes:

- For a collaborative functioning like P2P will be necessary that the user has an account or there will be opened a Gmail's new account.

- The application works so much for wifi as for mobile Internet, its use is recommended with wifi since the consumption of information can be raised due to the reproduction of video in streaming.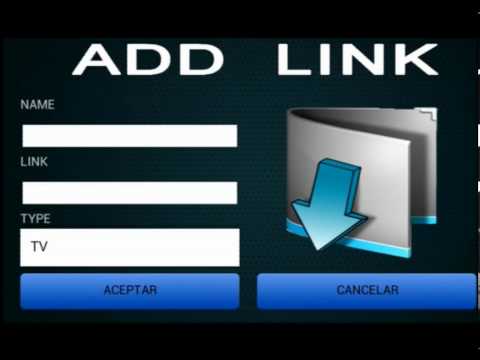 Write the first review for this app!
No comments in the Android market yet