Ubuntu Launcher (Beta)
-- Description --
Do you also love Ubuntu as much as I do? Does it seem awesome to you to be able to have the Unity desktop as your Android launcher? No? Ok, bye bye. In that case, this isn't for you.
This work in progress will allow you to have the Unity desktop running as your Android home/launcher screen.

-- Disclaimer --
Ubuntu is a registered trademark of Canonical Ltd, which I am not associated with.
I don't take any responsibility for... anything.

-- Notice --
It's a Beta, so if something doesn't work, or you have a suggestion, please let me know. Don't go drilling a Beta into the ground with 1 star reviews without actually telling me why you didn't like it, like some people are doing. Nobody's going to benefit from that.
Feel free to leave bug reports and suggestions on Google+ (https://plus.google.com/communities/111207292310016778258) or Github (https://github.com/RobinJ1995/be.robinj.ubuntu/issues), or contact me by e-mail.

Recent changes:
* The Launcher can now be made available inside other apps. To reveal the Launcher, swipe from the bottom half of the left edge of the screen. This is still experimental, and disabled by default. You can enable it in the Preferences screen.
* Bugfix: Dominant colour calculation preferences were ignored for wallpaper.
* Bugfix: If "Use HSV" was disabled and all taken samples were transparent, the app would crash with a DivisionByZeroException.
* Bugfix: Dash gradient didn't stretch to fit.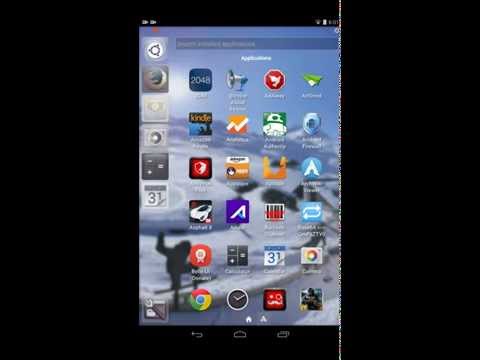 Write the first review for this app!