Ultimate Car Dock - Car Mode
UCD Wins Award at the 2015 Barcelona Motor Show for the Best Technological Developments for the Connected Car

Ultimate Car Dock - Get your 7 Day FREE Trial Now

The Award Winning Hands Free Experience - Drive Safe - Get UCD

• Calls Texts Emails Read out to You !
• BT SteeringWheel / Headset Hookup
• Voice Response Personalisation
• Full Screen Music Player
• 30 App shortcuts
• 7 Languages

Full Voice Recognition = Zero Driver Distraction:
Receive and Answer SMS text messages, emails, and calls, (WhatsApp & Gmail messages require Android 4.4+), open any of your favourite apps, start navigation and control your music - Completely Hands Free.

See full list of Voice Commands, and personalise your settings from the apps menu.

Integration with Steering Wheel or Headset via Bluetooth:
Activating UCD via the Steering Wheel Button or Bluetooth Headset enables you to initiate voice control without having to look at or, even touch your phone. You can literally leave your phone in your pocket, or bag, and still use it while you drive.

Personalised Voice Response:
By default the voice prompt is programmed to say "Ready", but you can opt to have it say your name, (or whatever you want,) giving your car a whole new personality!

Dedicated Music Player:
The music player has its own dedicated screen, beautifully designed for safe driving, with large buttons, and easy to read text.

5 Car Dock Screens:
The 5 car dock screens hold 30 shortcuts in total – and each one can be voice activated. Sleep Mode offers power saving, and ease of use.

UCD Settings:
The many and varied settings make UCD adaptable to your unique needs. There is even a Free online backup for the apps data, and your own personal settings.

We ask that you please familiarise yourself with the app, and set your preferences before you drive off! See "Voice Commands" & "Settings" in the menu or go to http://www.AppsonToast.com

"This app gives you a simpler (safer) menu for apps you need while you drive. It also gives you text to speech to hear and answer messages."
IBM Software Group - Vice President Rational Continuous Engineering Solutions

Drive Safe – Get UCD

Thanks to Marcello Di Matteo for the initial Italian translations
Thanks to Killian Poglajen for the French translations
Thanks to Daniel Ricardo Franco Bolado for the Spanish translations
And Thanks to Kirill Piskarev for his meticulous work on the Russian Translations

Connect with us on Google+ https://plus.google.com/u/0/+Appsontoast-UCD/posts

Recent changes:
V 2.2.6
New message queue system. Any messages received while your on a call or dealing with a message are now announced, so you never miss anything.
Stability improvements and various bug fixes.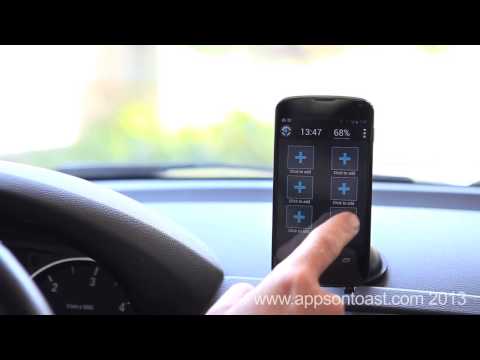 Write the first review for this app!