VeryDoge a very doge game
★★★★★ "Veeery nice. One of the better Doge-themed games I've seen!"
cicerothedog

★★★★★ "I love that this game supports external keyboard! One of the few games I can play on my Android mini-pc"
Greg Marks

★★★★★ " Wow game! How much dogecoines u catch? "
Such Very Player

★★★★★ "Such Game! Very Fun! Much Coins! "
True Shibe

VeryDoge is a remake of a very old electronic game popular in USSR "Wolf Catches Eggs" also known as " Volk lovit jajca ".
Only instead of the Wolf, we used a cute dog meme of a Shiba Inu called Doge or Shibe, and instead of eggs Dogecoins.

The dynamic of the game is also very different from "Wolf and Eggs".
The game has a fast tempo from the start and it grows rapidly.

In less then one minute you can play a game, relieve stress, break your phone and go on about your business.
The game is incredibly comfortable to play while sitting on the toilet, in the shower, on the beach, in the library and even in the classroom.

Let's be honest , our game is much more fun to play than Flappy Bird and 2048.
Regularly playing Very Doge will improve your reaction, enhance your immune system and lead to a long happy life.

So Enjoy, Rate, Share , Like and Love your family.

To effectively help Doge catch the dogecoins use the control buttons or tap where you want the money sack to be.

very please, dogenate: DJ8BtbVG8KTPGAcvQTUB1JkMXn1X8qB3Rc




FEATURES:

+++ OS agnostic leaderboard - Compare your score with all VeryDoge players: http://verydoge.net/shibes/ (No registration needed)

+++ Landscape mode that works fine on Android mini-pc

+++ Physical keyboard and mouse support for Android mini-pc

Control the doge with ARROW KEYS or A , Z , K , M keys.
Restart and pause the game with SPACE BAR.

+++ Relatively small download size

+++ High definition graphics that look nice on Tablets

+++ Upgradable bonuses that fall from the sky


Trivia:

The Shiba Inu is a Japanese breed of dog that was popularized as an online meme and it represents Dogecoin.
Dogecoin - is a young crypto-currency similar to bitcoin only not so serious. The difference is that there are lots off dogecoins and they are very cheap compared to bitcoins. That's why in the game you catch lots of them.

PS: The name is VeryDoge, it's not Very Dodge and not Very Dog and it's absolutelly not Very Dogy

PPS: This games is inspired by the popular in USSR Nu Pogodi or Volk lovit yajtsa aka Volk & yayca

Recent changes:
Doge Costumes.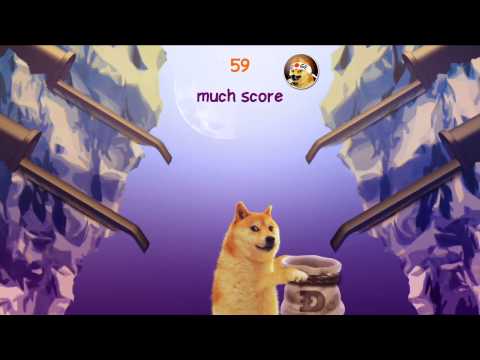 Write the first review for this app!