Volume Button
Free & No Ads
Its small panel similar to the Android Volume control panel.
It's very useful in case of:
Volume button stops working.
Case/Flip Cover that hinders pressing Volume button
And for friends like me, I always want to avoid pressing physical phone button to
saving volume button from tearing off ;)

Volume Button is exactly the same as Android Volume Panel.
1. Adjust Ringer Volume, System Volume, Media Volume, Notification Volume &In Call Volume
2. With the White Background and dark volume controls, visibility in sunlight are high.
3. Access any time without closing app. as its have optional Permanent Notification option.
4. Consumes NO battery at all

So light simple and easy to control different volume.
White - Holo theme following Android designs and without any complexity & minimal Images. Its fast & smooth.

Keyword: Sound control, volume control, volume setting, volume levels, schedule volume.
!!! JAY SHREE ODHAVRAM !!!
|| HARI OM ||

Recent changes:
Version 2.2
Some Translation text fixes.

Version 2.1
New languages added
Korean, Japanese, Thai

Version 2.0
Run on Device Reboot option added.
Notification volume added (Please unlink notification and ringtone volume from Android Volume setting to use this option)

Version 1.9
Bug fixed (Work in progress for most requested features.)

Version 1.8
Setting icon bug fixed
Unlock App bug fixed.

Version 1.7
Setting Icon Changed
minor bug fixed.

Version 1.6
Timeout Duration Option added.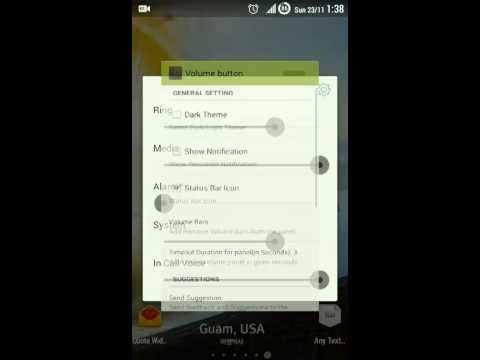 Write the first review for this app!