Weather Route - FREE
Get immediate weather forecasts and highway camera images for your entire route!

Your weather needs change. Usually, you just have to understand what's happening now, but sometimes you need to plan ahead. Instead of searching for weather forecasts city-by-city, get all the information you need all at the same time, in an easy to understand display.

* Using Weather Route, you can now check the current weather throughout your entire road trip and compare city forecasts side-by-side. See if there's snow in that high mountain pass, or flash flooding across that lonely desert, all at the same time, all from the same app.

* View the full route of your trip, or individual legs, with interactive Google Maps.

* Easily adjust the time of your trip to instantly see the extended forecast up to several days ahead.

* Weather camera footage from nearby highway cameras are now available in select areas. Look for the camera icon when holding your device in landscape mode. Mapped routes of these locations will have camera footage when available: California, Idaho, Iowa, Kentucky, Louisiana, Maine, Minnesota, New York, Oregon, and Washington. Additional areas will be listed as they become available. No app updates are required to access these new areas.

See the weather like never before - the only weather report that gives a summary of weather info for every leg of your journey.

This app is the free, ad-supported version of Weather Route. If you'd rather have the ad-free version, look for it in the other apps listed in the "more from developer" section.

Voyage Games LLC is not responsible for any damages or mishaps that may occur on your trip. Our services are provided AS IS and Voyage Games LLC will not be held responsible for any losses.

Recent changes:
v4.1:
* Update to allow users to continue when the start/destination spell checking web service is not available.

v4.0:
* Fixed web service problem that prevented some devices from detecting cities correctly.
* Added interactive Google maps.

v3.15:
* Fixed bug that allowed individual weather forecasts to display at slightly incorrect times compared to other results.

v3.14:
* Fixed bug that allowed duplicate city locations.
* Cleaned up visibility of camera images by hiding other displays.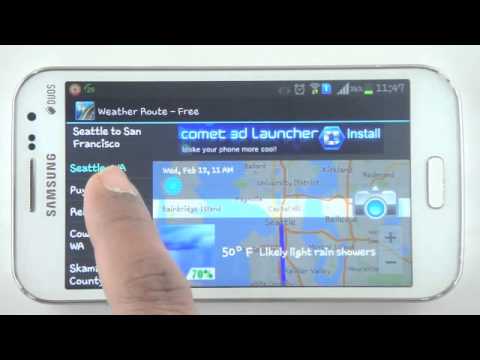 Write the first review for this app!