Weather Wear Watch Face
Finally a Weather Watch face for your Android Wear device. Fully compatible with your LG G Watch or Samsung Gear live.

To get the most out of it please read till the end

By installing this you'll get the watchface on your wrist and a companion app on your mobile device which will let you configure the watchface in every part (Few of the options are only for PRO users).
Some of the options and features are:
✔ Many different watchfaces to meet your taste
✔ Battery Percentage indicator
✔ 3 Day forecast / Pressure - Humidity
✔ 2 Weather providers (for now): Yahoo and OpenWeather
✔ Ability to set the weather refresh interval
✔ 3 Different watch vibration modes
✔ Option to let your wrist vibrate every hour like a cuckoo clock
✔ Option to let your wrist sligtly vibrate every time you receive a weather update
✔ 24 and 12 hour format
✔ Celsius and Fahreneit support
✔ Phone disconnection vibration
✔ and much more


Never leave your phone behind ANYMORE!!!
With a single tap you can enable the option to let your wrist vibrate whenever the connection between your phone and your android wear device gets disconnected.

Let your phone vibrate at each climate change
Once woke up take a look at your wrist and decide accordingly how to dress for the day. Easy, fast and reliable.

No more surprises with the battery indicator
Worried about the remaining battery? Yes Android Wear devices lacks this information. With just one look you've the precise amount of juice remaining.

**** BEST EXPERIENCE HOW-TO ****
To get the best out of this watchface we suggest to perform the following actions:
- Open Android wear app
- Click on the settings button
- Tick the "Display always on" checkbox ( be aware that it may drain your battery fast even though superamoled screen are very good in battery consumption when most of the screen is black )
- Select "Always hide" on the "Hide cards on dimmed screen" option

Have an idea on how to improve the app? Let us know by contacting us and we'll do our best to make you happy.

Cards size issue
We're aware that notification cards are large in this watch face like other watch faces. Unfortunately, at this time, there's no way to choose the size of them. Once google releases the API we'll upgrade the app accordingly :)

Recent changes:
1.1.0 pre release. Watchfaces might get redesigned in the mobile app to avoid color blending.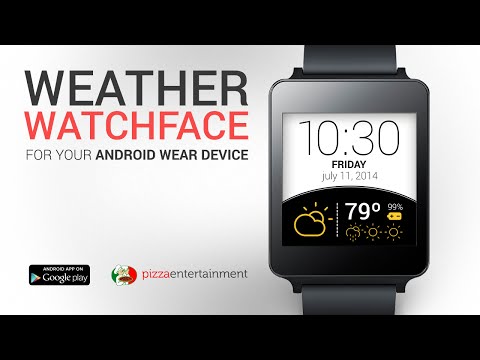 Write the first review for this app!