What's The Word? Word Puzzle!
Rearrange the word puzzle to spell the correct word, its that easy!

What's the Word? - Word Puzzle! is the latest fun, addictive and FREE word puzzle solving game that everyone is playing!

You are given a word puzzle to solve, a conundrum, similar to a crossword yet you have the one word to find at a time from the jumbled up letter like an anagram, there's not a pic in sight!

If you need help you can get a clue, reveal a random correct letter or nominate a correct letter to help you to solve the word puzzle conundrum. Each word puzzle is a level and you have to solve it to progress to the next level.

If you love word games, crossword puzzles or a word search then this is the game for you, you can even compete with your friends to see who can reach the highest level

(English language only)

More Great Features
1) Over 5000 words to solve, starting with four letters and getting increasingly harder up to nine letters! How far can you go?

2) Compete with Facebook and Google Play friends to see who can reach the highest level.

3) What's The Word? - Word Puzzle is simple and easy to play on your own or competing with friends. If you love word games or puzzles games then you will love this game and its FREE to download.

4) Simple, addictive and fun guessing game!

Other Great Features:

1) Simple and addictive word anagram puzzle game to test your brain
2) Over 5000 words to solve
3) Compete against your friends to see who is the best!
4) Great game aids to help you!
5) Daily bonus game

And its FREE to play!

Game Aids:

Ask - Tap this to ask your Facebook friends to help you solve the word puzzle!

Reveal - Tap this for one correct letter to be revealed.

Nominate - Tap this and either tap a letter or a space for the correct letter to appear.

Hint - Tap this to receive a helpful hint.

Skip - Stuck? Complete the word and move on!

Check out our Community page on Facebook at
https://www.facebook.com/pages/Whats-the-Word-Community/676669679014746

Recent changes:
-Fixed some stability issues and freezing which could occur
-Fixed a bug which would cause the app to crash if screen was rotated during a facebook login
- More fun words added to the game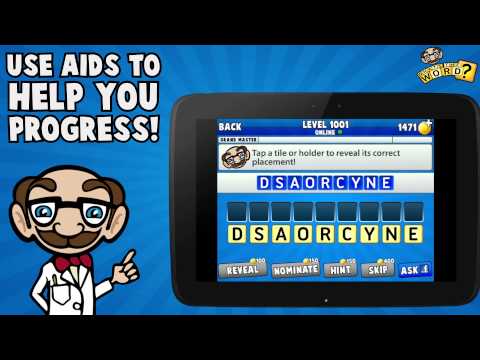 Write the first review for this app!