Wordathon: Classic Word Game
WORDATHON: Classic Word Game is a word game that will amaze your mind.

It's is an all time favorite superb word search game!

Wordathon: Classic Word Game is a word search puzzle with a grid of letters. Connect cubes to search as many words as you can. Make words swiping horizontally, vertically, diagonally, or go mad zig-zag in the boggle grid.

★ ★ ★ Wordathon was Featured app in Google Play Home page in all countries (March 2015). ★ ★ ★

Wordathon: Classic Word Game is a must-have game for all word game lovers.

Features:
- New Challenging Scenarios- 4 Different types of grid
- A new game always, NO repeats
- Uses the most comprehensive dictionary
- See the list of common and obscure words you missed
- Compare your score with other players using leaderboard
- Get to the meaning of the word with the integrated dictionary
- Check lifetime score summary on Home screen
- A timeless time-killer game
- Parental Control

★ ★ ★ Wordathon: Classic Word Game has been featured multiple times in Trending Apps on Google Play. ★ ★ ★

Not a big fan of ads? Go ad-free for a low price!

Earn SessionM points in this app. Redeem your mPOINTS for gift cards from major retailers like iTunes and Amazon. Or use them for contest entries or to donate to a favorite charity.



* We use professional tournament word list TWL'06 (http://en.wikipedia.org/wiki/Official_Tournament_and_Club_Word_List). We have taken utmost care to remove all the obscene words.

Recent changes:
All word game lovers, Spread the word.

Show some love for Wordathon and we share a Special gift with you!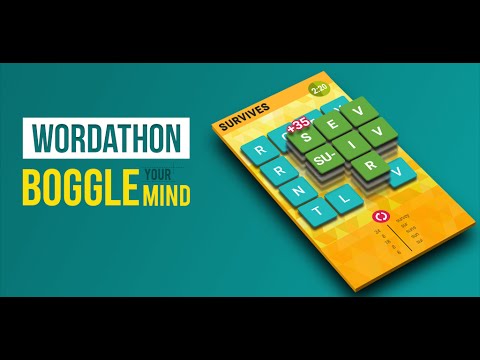 Write the first review for this app!