xxter
The xxter app is a client for the xxter product. Controlling your home or office was never as easy. Build your own scenarios for your home, use them and change them when ever you want.

Temperature control, clock programs, cameras, weather information, and much more.

A selection of the features:
- change scenarios directly from within the app
- an option for "live preview" of the scenario
- add new schedules, change them or remove them.
- Pan, Tilt and Zoom support for cameras
- Multiple accounts support
- Multiple profiles support
- Alert service with support for push messages, text messages and email
- Protect pages with a PIN
- Personalize pages with custom colors and icons
- Use your own images as backgrounds
- Optional external IP or hostname to automatically switch between internal and external usage.
- Quadrant camera component
- Camera internal/external host support
- More than 450 icons to choose from

Support for the enOcean version of xxter.

New in 1.8.2
- Demonstration profiles directly available in the app
- New button row component for 1 to 6 buttons on a row.
- New web page component for opening a website in Safari
- Updated shutter component (two button option)
- Flexible text component extended to allow display of texts from the KNX system
- Use your own icons within many components
- Several other improvements

In version 1.8.1:
- Dimmer component has been improved
- Door button options have been expended

New since 1.8
- French localization now implemented
- maximum / minimum settings for thermostat now possible
- shiftpoint version of thermostat now available
- background image support had been improved
- dimmer component has additional only off option
- half height spacer component added
- When clearing the settings the pages are removed locally from the device as well

New since 1.7
- Support for intercom systems
- Change and add schedulers directly from within the app
- Support for uPnP in xxter
- Support for IR devices
- Support for HTTP commands

Recent changes:
Many new features! Some of them require an update of the firmware of your xxter, for more information visit our website.

2.1.0
- New push notification with snapshot support
- Proximity sensor can be turned on/off

2.0.0
- Charts can now show two datasets.
- New camera functions: sequence and pinch-to-zoom
- Scenario's can be added, renamed and removed from the app
- Local user support, with access right management
- Presence detection: detect if someone is at home or not.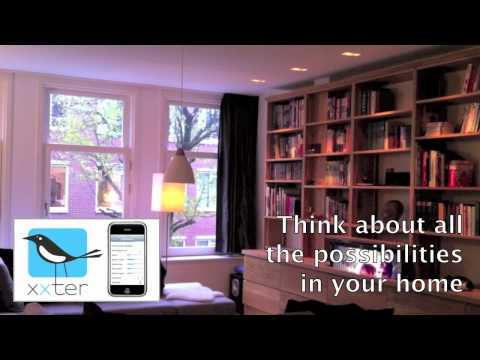 No comments in the Android market yet