zeronote
Zero note is 'Real time collaborative writing' application' that allows several users to write one same document at the same time.
This app shows what co-workers are writing in real-time, even one character. So that, it can be actively used in collaborative working environment such as in a meeting and a class.

* Key Features
- What people around you are editing can be checked in real-time.
- Writing a document is available even in the internet-less environment. When internet connection is available, synchronization is supported automatically.
- Quick and easy sharing with co-worker is available by sharing-code.
- A paragraph-integration method enables paragraph-based editing and change of location, so that it is useful for several users to write one long document at the same time.

* When to use
- When several co-workers need to write and share a minutes of the meeting.
- When students want to write a study note together.
- When couple want to write a one love-diary together.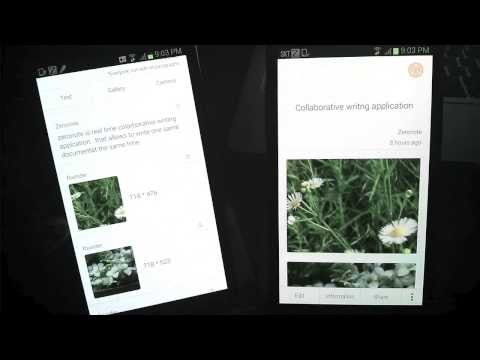 Write the first review for this app!
No comments in the Android market yet