Zooper Action Widget R&B
A Zooper skin theme mainly for Action Launcher http://goo.gl/unhWT7
or any other launchers like Nova, Apex, Epic, Lucid and more...

Zooper Pro and Media Utilities (for music skin) is needed.
Install skin theme by Skin Installer. Find theme icon in app drawer after download.

Red and Blue style!
On Main screen:
- Location widget with city picture and sunrise/sunset progress bar.
- Clock with day of week, hours and minutes progress bar. Next alarm shortcut.
- Upcoming event widget. 4 entries.

On Action launcher QuickPage: (add them to another screen on other launchers)
- Weather widget with condition, temperature, humidity and wind speed.
- System info with RAM usage, CPU frequency, connection types and Bluetooth status.
- Phone widget with current battery level and shortcuts to Phone, Messaging and Gmail apps.
- 2 styles of Music widget with song details, progress bar and shortcut to your media app.
- Quick shortcut widget for Gallery, Camera and Youtube.

Set screen to 6x5, status bar and dock ON.
Add 5x2 Zooper widget on main screen.
Add 4x1 and 4x2 widget for Action Launcher QuickPage.
(Add them on main screen first then drag it to QP)

All layouts and modules of skin are editable.

PLEASE RATE AND SHARE!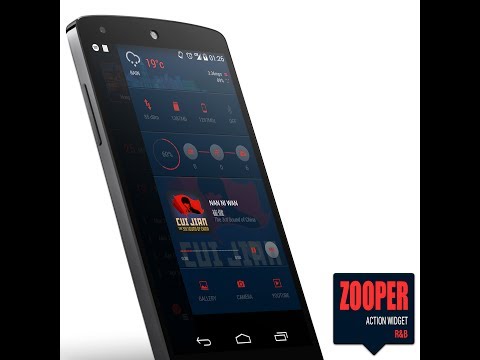 Write the first review for this app!