Zooper Companion App (donate)
**Exactly the same app as the free app, but supports my work so you get an added bonus of feeling good :)**
**This app is useless without Zooper Widget installed** If you re using it for KLWP, you need both Zooper AND KLWP installed

Love playing with colours but hate having to go into every module to change the colours individually? Then this is the app for you.
This app lets you set variables: #TCOL1#, #TCOL2# ... #TCOL7# to colours to use with Zooper Widget Pro's advanced parameters (see below) all from a familiar interface.

Now also monitors bluetooth status through #TBTSTAT#: 0=OFF 1=ON 2=CONNECTED (beta)

Guide:
When setting up your widgets, apply [c]#TCOL1#[/c] in the advanced parameters of the modules you would like to be the main colour.

Apply [c]#TCOL2#[/c] to all modules you would like the secondary colour, and if desired add [c]#TCOL3[/c] to any modules you would like a third highlight colour.

Then, use the zooper companion app to set those colours that will apply to all modules with the advanced parameter applied.

Do this for up to 7 colours.

It's as simple as that!

Advanced parameter uses:
[c][/c] – Applies to all text, rich text, rectangles, series and scalable icon set modules.
[cs][/cs] – Applies to the highlighted text in a series.
[cb][/cb] – Applies to the background of a progress bar.
[cf][/cf] – Applies to the foreground of a progress bar.
[cl][/cl] - Applies to additional colour progress bar

Planned updates:
- Integrate shortcuts to app.

Recent changes:
v151 - fixes Bluetooth variable force close on some devices.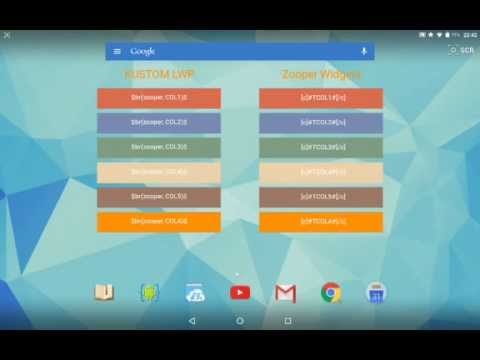 No comments in the Android market yet