Commandr for Google Now
Add commands to Google Now, no root required!
No more "note to self" before every command! (v2.0)

As Featured on LifeHacker, SlashGear, Android Police, Android Authority, Android Central, Droid Life, Android Community, Android Pit, and more!
"... if you're using your phone hands free in the car, it can be a life saver" - LifeHacker
"With the 3rd-party-developed app Commandr, Google Now gets a boost" - SlashGear
"... meet Commandr, the new in-between service for flipping hardware switches in Google Now" - Android Police

Google Now Just Got Better
Now you can use Google Now to control your flashlight, toggle settings, control music playback, and much more!

Google Now Just Got Personal
Add your own custom commands through Tasker to make sure your device fits your lifestyle.

Listening to You
Vote on new commands or suggest new ones so that we are working on adding the commands you want.

Improving Quickly
Don't wait for Google! Updates will be quick and support request responses quicker.

Unify Your Smartphone
Access all the features of your device through Google Now so you don't have to remember what app does what.

Setup and Forget
Once you setup Commandr, it will always be accessible from Google Now and will only run when needed. It won't slow down your phone or your boot.

Offline
Commands work fully offline! (have to type instead of speak)

Command List (so far):
- Turn On/Off Wifi
- Turn On/Off Bluetooth
- Turn On/Off GPS (for some phones)
- Turn On/Off Cellular Data
- Pause Music
- Resume Music
- Next Song
- Previous Song
- Read Aloud Unread SMS
- Play Google Play Music playlist
- Chatbot to make Google Now one step closer to Siri
- note (adds to note-taking app)
- Any Tasker command you can dream of!

Coming Soon (vote for priority in-app):
- Wolfram Alpha Integration
- Read Aloud Unread Gmail
- Turn On/Off Wifi Hotspot
- Launch Navigation with Waze
- Turn On/Off NFC

Developer: Ryan Senanayake
Graphic Designer: Adriano Loiacono

Source code: https://github.com/RSenApps/Commandr-Android

Recent changes:
2.4:
- New Command: Chatbot - Makes Google Now one step closer to Siri by allowing users to ask it anything and it will respond using PandoraBots
- New Command: Toggle Cellular Data
- Tasker Commands can now have comma-separated phrases
- Issues with Tasker Commands which launch an activity are now resolved
- Misc. Bug Fixes

Keep voting for and suggesting commands in-app!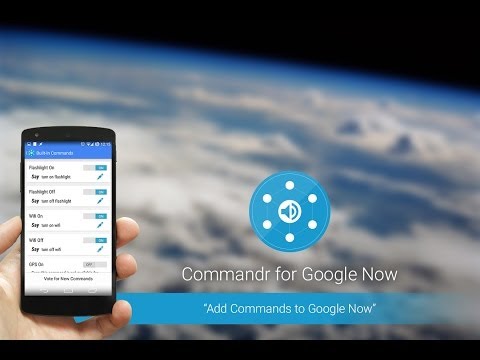 Write the first review for this app!