Integration with AdMob mediation¶
The banners and interstitial of the AppBrain SDK can easily be integrated with the AdMob mediation platform. More information about AdMob mediation and how to set it up can be found at https://support.google.com/admob/v2/answer/3124703.
Setting up your app for mediation¶
We assume you already have a mediated ad slot defined in your app. To make use of AppBrain banners in your mediated ad slot, follow the general installation instructions on the SDK setup page.
Since AppBrain SDK version 10.41, AdMob mediation is integrated in the main SDK and doesn't require a separate jar file.
Now set up your mediation placement for showing AppBrain banners on https://apps.admob.com/#monetize. First, go to Monetization and to the settings of your apps under "All apps".
Then, click "ad sources" next to your ad unit.
In your ad networks list, click the button "+ NEW AD NETWORK". In the next screen, fill out the following information:
Class Name: com.appbrain.mediation.AdmobAdapter
Label: AppBrain banner (this is the name that AdMob will show for the AppBrain banners)
Parameter: Leave empty
Click "Continue".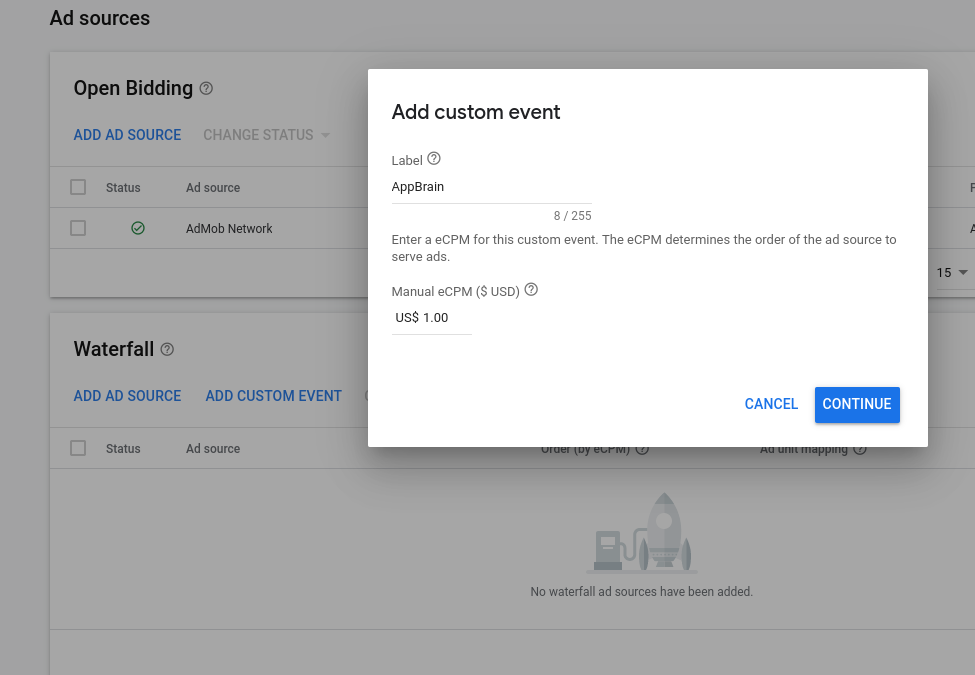 The mediation is now set up. You should see the following line in your mediated ad network list:

Make sure to adjust the CPM to what it is on the AppBrain dashboard regularly.
Mediating the AppBrain interstitial¶
Mediation of the AdMob interstitial works in the same way of the banners. The same class com.appbrain.mediation.AdmobAdapter can be put in the field "Class name" and parameter can be left empty.